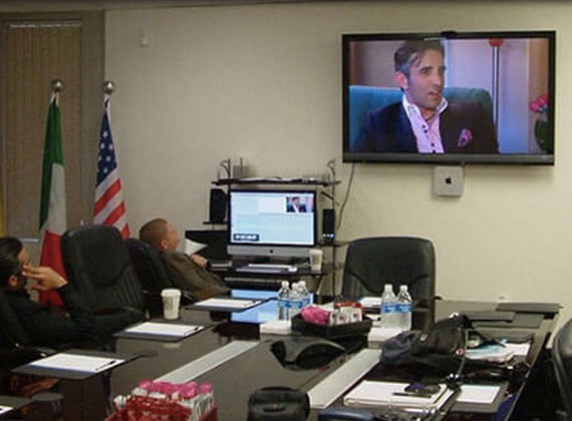 Did you know 72% of all Internet users are now on social media? That say's a lot. If you aren't on social media yet, now is the perfect time to start.
There are several social media platforms, however, the ones you should really create a presence on are:
Facebook
Twitter
Linkedin
Google+
Pinterest
In general, there are a few key tips to keep in mind when using social media for your business:
Be original
Social media sites are saturated with content, it's important you make your messages stand out. Have a personality and be funny, no one will pay attention to dry, plain and boring status updates.
The most viral posts are always unique; something that people would feel compelled to share.
Less is more
While keeping in mind the "originality" tip, it's also important to remember less is more. Writing lengthy posts will go unnoticed, especially if you are trying to promote a brand or product.
The key is to get the most eyes, engagement and traction on your posts, so keep them short and to the point.
Share vs. Sell
I see people making this mistake time and time again. When you position yourself as a leader, the last thing you want to do is constantly use your social media pages to sell and promote.
While it's important to always have your business be the center focus, the content you share needs to contain value for your fans, so they in turn share and tell their friends to follow you.
When you write status updates, share something personal, let your followers know you are a real person. To be subtle, you can talk about how much you love using your product, or what dramatic changes it has made in your life – this is still personal while utilizing a subdued promotion of your product.
Each of the platforms has their own set of benefits that I will cover briefly.
---
Facebook

Everyone knows Facebook is the big kid on the block, with its platform being accessed by over 1.5 billion users and counting.
Facebook is perhaps the most important social media platform you can utilize for your business, with the highest amount of benefits for our industry.
With the platform you are given several options to create a viral presence and reach people you may know, or people you are interested in getting to know.
I speak from experience. I wrote and posted my blog link onto my fan page and by using the viral capabilities of Facebook along with some advertising (which I will get into later) I yielded thousands of likes, comments and shares. This brought a great deal of traffic to my site and blog, where I then requested the visitors email and increased my email marketing list!
The features you should be aware of and utilize are:

Timeline

Your timeline is a history of all your updates and posts
Utilize the timeline to post about yourself personally and professionally
If someone comments on your posts, be sure to interact with them
Pages

Having a fan page allows you to separate your friends from your fans – this is particularly good for the individual who is trying to position themselves as a thought leader
Businesses and brands will always have a fan page, be sure to follow the ones you find valuable to stay ahead of the game
Once you are ready to create your fan page, suggest the fan page to your friends to get instantaneous likes
Groups

Groups are a great tool to get your name out there and to meet new people
First join a group centered around direct sales or network marketing, to see what people are talking about, then begin to join in the conversation in a similar manner
Once you gain traction you can create your own group, either private for people in your downline, or public to bring more people into your downline
Newsfeed

Your newsfeed is a compilation of updates and posts from your friends and pages you follow
It's important to look through the newsfeed throughout the day to see what's trending and happening in your social world
Be sure to interact with other people's post's, you must first give engagement to receive engagement
Messenger

This tool allows you to direct message any one of your friends
If you message someone who is not yet your friend, it will appear in their "other" inbox which is rarely checked, so be sure to add them as a friend first!
You can also send to multiple people in the same message, just be careful not to send to too many people as that becomes "spammy"
Photos/Videos

Sharing photos /videos on social media is one of the best ways to create engagement
Posting personal photos creates a sense of relativity, and people like to engage with these types of posts
When it comes to videos, always share the videos that are unique, funny and amazing – make and share your own videos too!
Once you feel comfortable with all the features in Facebook, you can begin to start maximizing your efforts by utilizing a promotion app for your Facebook page to run sweepstakes, contests, and polls.
By doing this, you create a viral buzz around your page and capture many emails you can later market to in the future. When you invite people to like your page, you aren't receiving any information from them, like their email address, so it's impossible to really market to them without using Facebook.
Email marketing is a great tool that every network marketer should use, and if you need to quickly build a solid email list, using a sweepstakes tool for your fan page will do the trick!
Facebook Advertising
Facebook is an ever-changing entity, and being users of their site, we must adapt and adjust to the changes they set forth. One of the many changes that have taken effect more recently is the algorithm in place for how your page posts get viewed.
Facebook has implemented a change that will improve the news feed experience for its users by reducing the number of business page posts and promotions. What this means for business pages, however, is now being obligated to utilize their advertising platform, as this is the only surefire way of getting your posts seen by more of your fans and a new audience as well.
While there are experiments you can run on your page to test organic engagement, you will not see the high-level results you are looking for without advertising at least a small budget on the posts that matter to you.
Now, I am not saying to advertise every post, please don't do that! It's important you choose the posts you want to have more people see, such as an exciting sweepstakes or an event you are hosting.
The good news is Facebook offers targeting options that allow you to narrow down on your specific audience you want to advertise to. One of the easiest ways to do this is through what they call "post boosting" right from your fan page timeline. Here's a quick walkthrough of how to get a boosted post up and running:
First, choose a recent post you'd like to advertise, make sure there is some sort of call-to-action on the post, such as:
A link with a photo – for click through to your site
A video – for video views
A promotional campaign – for engagement
Rule of thumb: never post a link without an image attached. You can use the image that is pulled from the link, or upload your own.
After you have chosen the post to boost, you will see in the lower right-hand corner an option to "Boost Post" – go ahead and click on that button.
Once the pop up appears, you will see the page post on the left-hand side, with options to select from on your right.
Let's work our way down. First, you will select the type of audience you'd like to target:
People who like your page

This type of post will only reach more of your existing fans

People who like your page and their friends

This type of post will reach your existing fans and their friends

People you choose through targeting

This is the most effective type of targeting to ensure you bring new people to your page
If you choose option 3 you will choose to create an audience you wish to target to.
You will be asked to choose:
Location
Age range
Gender
Interests
Evaluate what your target market is, and experiment with the boost to see how well it does from the target you selected.
For instance, if I was working with a skin care line and wanted to promote a deal on my latest product, I would choose my country, or if I wanted to just reach certain cities, I can instead choose specific cities to target.
Once I have my location chosen, I would define the age range I am targeting. Let's say the skincare product I am promoting is anti-aging, so I am going to choose my age range to be between 40-65.
For the gender, I am going to try this boost with just women only. If I don't yield as high of results, I can choose to open it up to both men and women.
For interests, you can start to type in a word and it will pre-populate with suggestions. For this example, I would type in interests such as, "skin care", "skin care products", "anti-aging cream" and the brand name for my company if it is well known.
Once you have all that information completed, click save and it will bring you back to the pop-up. You will then see the estimated amount of people you will reach with your target audience and budget. You can choose to increase or decrease the budget, and by doing so you will see the number of people you can reach adjust.
Rule of thumb: test, test, test. You always want to try different types of ads, whether you change the audience, interests, age group, etc.
You will never know if your ad has the opportunity to perform better if you don't test!
Once you have the boosting down, you will want to start learning about the Facebook ads manager and power editor.
These two platforms work hand-in-hand with each other to help you create ads with different objectives. The ads you create on these platforms can be advertised in the newsfeed without having to make a post on your actual timeline. These types of ads are solely meant to reach new target audiences.
Inside the power editor, you are actually given the ability to upload audiences to target to from an email list you might have, or even phone numbers. Facebook matches up the emails or numbers with the data of users in the Facebook platform, and then allows you to create target specific ads to that audience.
You can also take that audience and create what is called a "look-alike" audience, which will be a collection of Facebook users with similar interests as the list you uploaded. The look-alike audiences are always a larger list than the original, therefore if you upload a list with 500 contacts and convert it to a look-alike audience, you can turn that list into 3,000,000 people.
For example, l once hosted an event and from the attendees, I had grown my email list to over 4,500. After the event, I went to the Power Editor to create an ad that specifically targeted those who attended my event with a call-to-action. After this ad, I used this list and created a look-alike audience to market my next event to, which brought on board a number of new individuals looking to learn about my business.
It's important to understand the full capacity of the ad platform is quite extensive. I recommend learning and utilizing the power editor to test the different objectives you may want to run your ads for. The objectives offered are:
Clicks to your website – this brings traffic to your site
Website conversions – this will increase conversions on your site, whether you are trying to sell your product or have your fans register for an event. You will be required to insert a tracking pixel into your site before creating this type of ad
Page post engagement – this allows you to take a post from your page and boost it from the ads manager with more options
Page likes – this will help you promote your page to get more likes and connect with a potential new audience that is interested in your brand
App installs – if you have a mobile app this type of advertising helps you get more installs on your app
App engagement – following the app installs, this type of ad helps you increase engagement around your app
Local awareness – this is great to local businesses to advertise to their local audience
Event responses – this type of advertising raises awareness specifically for events
Video views – this type of ad gets more views for a video you post to get higher views and traction
Depending on the objective you are seeking, the ad platform will adjust the options you have accordingly. The top five objectives for this industry however are:
Clicks to your website
Page post engagement
Page likes
Event responses
Video views
It's important to feel comfortable with the boosted posting before jumping into the ads manager and power editor, but it's definitely something you want to spend time learning about to increase your results on a consistent basis.
Now, let's take a look at the other platforms you can use to leverage your business.
---
Twitter
Twitter is great for getting your quick bits of content out there and connecting with other companies and people. With now over 300 million users, Twitter has become one of the largest social media sites and is used by a wide range of people.
Engagement is huge on Twitter, it's the only way to really grow your followers organically. When you see a tweet you relate to you can:
Retweet it
Create your own tweet and mention that user
Favorite their tweet
If someone does any of these with your tweets, it's important to reciprocate the engagement and keep the conversation going. It's common practice to tweet several times a day, since the character count is limited it's actually encouraged!
A good technique to keep in mind when tweeting is to look at the trending hashtags. By using the hashtags that are trending you are essentially allowing your tweet to be seen by those who are reading about the topic of the hashtag.
For instance, let's say it's the time of year when the Oscars premiere. One of the trending hashtags could be #oscars. In your tweet you could say something like:
I am so excited to watch the #oscars tonight!! Who do you think will win best actor?
Now, your tweet will appear in the list of tweets containing that hashtag allowing more visibility to your tweet, which will increase engagement from new users and more importantly your profile.
Quick Tips
There are a few ways you can optimize your tweets for higher engagement, and one of those ways is by varying your link locations.
While it's common to post the link in your tweet at the very end, a recent study has shown it's actually opposite. The click-through rate for tweets with links positioned at the beginning was higher on average than those with links at the end.
Another common mistake is when you use the @reply in a tweet. If you tag another user by using their username first, Twitter will assume you are only talking to that user directly and it will not appear in the twitter feed for other users to see.
To avoid this, you need to write a couple words first, then their username. By doing this, you are allowing all of your followers and theirs to interact with that post.
Here is an example:
What not to do: @twitteruser how was the event last night, looked like an amazing turnout!
What TO do: Hey there @twitteruser how was the event last night, looked like an amazing turnout!
Timing is everything when it comes to tweeting. 60% of company mentions are posted after normal working hours. It's imperative you take control of scheduling your tweets! You can use a platform like Buffer or Hootsuite to help you schedule your content ahead of time, that way you don't have to be sitting on your computer or phone constantly writing and thinking of what to tweet.
Find out what time is the best time to engage with your audience and then schedule all the important tweets during those times. You want to make sure you still tweet during the off times to ensure you stay consistent.
---
Google+
Google+ is a growing platform, and while it's not at the top of everyone's social media list, it is still important to have a presence on the platform.
One of the key benefits to having a Google+ account is the high level you are ranked on Google through search. This alone is reason enough to have an account, the more search results that pull up when searching your business or name, the better!
Google+ is setup similarly to Facebook, with a little bit of Twitter mixed in. It's also brought forth a few new ideas like circles and hangouts. With circles, Google has allowed you to custom tailor your messages for specific audiences, which provides a higher level of privacy and customization.
One area to stay plugged into are the Google communities. These are fairly similar to Facebook Groups, where you can collaborate with like-minded individuals to discuss your company or other subjects relevant to the community. It's a great way to meet new people and get your name out there.
Quick Tips
Since Google + is a growing platform, there are people who either rarely use the platform or just simply haven't joined yet. A good way to increase visibility to your Google+ profile is by leveraging other social media platforms. Let them know you have a presence on the platform and to find you!
High performing posts tend to contain photos, typically a mixture of professional photography centered around your brand, with some personal photos as well. It's important to utilize the #hashtags on this platform as topics trend here too.
Build relationships. Google+, because it's on the smaller side, makes it easier to find key influencers. Get the attention of influencers by tagging them in posts, direct messaging them, and interacting with their posts. Be genuine, and try not to make it apparent you view them as an influencer, but more because you are just a fan.
Once you have that relationship established, you can leverage it to get more eyes on your business by having them share one of your posts or blogs on their profile. This method can be used with any platform; however, it's been known to be easier on Google+.
How to use Google+ Hangouts on Air
Google+ Hangouts on Air (HOA) allow you to host a live video broadcast through your Google+ profile and YouTube. It's essentially a webinar, except it's broadcasted online and is automatically archived in your YouTube channel for post promotion.
Before you utilize this you need to first:
Create a YouTube channel, if you don't have one yet
Connect your Google+ profile to your YouTube channel
As a host of a HOA, you can schedule a live broadcast ahead of time to send to your fans or a specific list of people. Google+ gives you the option to make the HOA public, so anyone can join, however, you also have the ability to make the HOA unlisted.
Once you schedule your HOA, people can RSVP and you can start making important posts about the broadcast to your Google+ profile and pin them to the top so they are the first thing seen. If you are making your HOA public, include a link to RSVP in your posts.
Another great way to promote your HOA is by making a video trailer. You can host it on YouTube and have your speakers and fans share it to get more people to join the HOA you have planned.
Make sure you post the YouTube URL or embed the code into your site, that way people without a Google+ account can see the HOA. You can also cross-promote on other social platforms utilizing the YouTube link.
If you plan on having speakers in your HOA, there is a quick checklist you will need to send to them prior to ensure everything runs smoothly. Once they review it, you need to run a few test HOA's to check mark these items off yourself:
They need to have a Google+ account
Make sure they know their Google password
Make sure their lighting is properly adjusted for their webcam
Do they have a microphone, and are they using a headset?
Have they installed the HOA app?
Are they using a separate webcam or built-in webcam?
Do they have somewhere quiet to participate in the HOA?
Have they helped to promote the HOA
Do they have your mobile?
Is everyone's phone set to silent?
It is imperative you know this information prior to conducting your HOA to ensure there are no issues that arise during the broadcast. Make sure you do a dry run with every speaker in attendance at least once before the broadcast!
---
LinkedIn
LinkedIn is the largest professional network in the world. It is an imperative platform to join if you are pursuing any sort career.
One great aspect about LinkedIn is it provides insight into your professional history, background and experience, and people can endorse you for key skills you might have, which is added credibility for your profile. It's important to have your profile as complete as possible.
The goal on LinkedIn however, is to build your network of connections to eventually become a thought leader in your space. If you are just starting, you can add connections with individuals you may know or worked with in the past, colleagues, influencers, and leaders.
Quick Tips
To get more eyes on your profile, link to your profile from your website, Facebook, Twitter and Google+. By doing this, your fans and followers will know your on LinkedIn and may ask for a connection, if you aren't already connected.
Get involved in LinkedIn groups. By making a presence in a group and providing value, your credibility will increase and trust amongst other group members will form which opens up new opportunities and connections. It's important not to self-promote in these groups, and instead bring forth value, whether that is through experiences, articles or other various methods.
Since LinkedIn is a place for connections and search, oftentimes people look past actually posting on the site. It's important to post relevant topics in the news feed on LinkedIn to keep eyes on your profile so it doesn't fall by the wayside with your current connections. By sharing valuable content, you become trusted in your current network, which is important to do in conjunction with building your network.
When you find someone on LinkedIn you'd like to approach, do not cold inmail them. You need to send a personalized inmail explaining why you'd like to connect. You will notice how many you will receive personally, and it's not a good way to get someone's attention, as it becomes rather annoying and is frowned upon. LinkedIn Inmail 101 – never try to sell something before connecting with that person.
Customize your LinkedIn public profile link. This will make it easier to find and share your profile, instead of having a link with a bunch of random letters and numbers. You can customize your profile link when viewing the public profile settings from within the platform.
---
Pinterest

Pinterest can be a great way for you to spread awareness about your brand. While you may think of it for more of sharing recipes, finding cool DIY projects or latest fashion trends, it can actually be pretty beneficial for business.
Once you have your account started, you will need to start developing your Pinterest boards. Start with a few that are relative to your brand, for instance, if you are in skin care, make a board about products, one with tips and another with before/after photos.
Utilize other platforms to get more followers on Pinterest. For instance, if you pin something interesting, place a link to that pin in your status update on Facebook, Twitter or Google+. This will bring more eyes to your Pinterest profile.
Pin photos from your site to your profile, by doing this it will bring traffic to your site from all those who click through to see the photo. Use infographics to your advantage on Pinterest, they are perfect for this platform! It's important to remember while your pinning photos to rotate the boards you're pinning to. For instance, you wouldn't want to pin 10 photos in the skincare board, and only have 2 in the tips board. Keep your boards as close to equal with pins as possible.
Make sure you add the "pin it" button on photos in your site to help people pin to their boards. If you get a great deal of traffic to your site or blog, you can also embed a widget that hosts a few of your latest pins, that way people can interact and that traffic can turn into followers.
Creating a collaborative board is a great way to gain more followers from other people's boards, and the board will continue to populate with pins as everyone keeps building on it. This is a great way to add value for other Pinterest users as well, as it will provide them with various items of content relative to the topic from various sites.
Pinterest can be challenging, as it is a completely different type of platform, however, use it to your advantage, get creative and inspire people with your posts. Don't center it on your brand, keep your message consistent and provide value, but most of all pin photos you expect to increase your overall brand awareness.
Creating Social Buzz with Events
It's important to understand while social media is imperative in this day and age, it should also not replace other methods of recruiting.
Think of social media as an efficient supplemental resource. Attending events, conference calls and taking personal development courses are just as important.
However, when you plan your next event you can really leverage social media to increase attendance and improve awareness.
When you start posting about your event, its important to always include a trending hashtag, that way people using that hashtag and looking at the posts about it will see your event.
It's important to additionally create a hashtag for your event as well, such as #AmazingEvent2015 and then ask everyone to use your hashtag if they post about the event, before, during and after!
Here's a good technique to follow when planning your event for the added boost from social:
Before your event
Always make sure to share posts that promote your event, make them engaging and enticing. This will help to drive the awareness of your event.
Example: Don't forget to secure your spot at the event of the year!! Seats are filling up fast! See who's speaking and sign up for the event here! <link> Can't wait to see you all there!! #AmazingEvent2015 #TrendingHashtag #TrendingHashtag2
Plan to have a live coverage stream of your event hosted on your site and post about it on your social sites, that way people who cannot attend the event, can still participate in social posts to increase engagement during the event.
During the event
It's important to dedicate someone to take care of live status updates during your event, as if this is your event you will simply not have time to do this.
Once you find the right person, they will need to tweet in real-time what is going on during the event, take photos of speakers, location, guests, etc and keep conversation going through out the event with other people's posts.
It's important the real-time tweets are more frequent, however, posting on Facebook is essential as well, just not as much as Twitter. Posting photos and updates through out the event on Facebook and Google + will keep your fans engaged and in the loop in case they aren't following you on Twitter.
Make sure to mention in those posts to follow you on Twitter for real-time updates on what's going on at the event.
Since you are the host of the event, take pictures with the attendees and post it on social – fans and followers love to see candid shots especially with the host.
After the event
Now that your event is over, don't let the hype die down! Keep sharing photos and videos from the event showing how great it was.
Share any articles about the event, and be sure to respond to the attendees who mention you on Twitter, or thank you on Facebook or other social channels – use this to your advantage. It's important those who did not attend get the feeling they really missed out so the next time you host an event they will make sure to attend!
Last but not least, create a thank you post to all those who attended and be brief yet sincere – use hashtags!
---
General Social Tips for All Platforms
Now that you're up to speed on the top five social sites, let's get into general tips to have an overall stellar presence on social media.
Always keep your posts sweet and to the point, don't be afraid to push the limits and take a different approach. Look at how other people are posting and do it
Try to keep your posting consistent and casual. Certain platforms require more posting, like Twitter, to stay ahead of the game, whereas other platforms such as Facebook require less.
Use tools like likealyzer.com or socialbro.com to review the analytics about your page, and even your competition! This will keep you clued into what needs to improve
Create content, curate others content and share it! Always think to yourself when you create or share a post – "will my fans find this valuable?"
Always use visual posts whether you include a graphic or video, people interact at a higher level when posting visual elements
If you're wondering how to increase your followers, the easiest way is to stay ahead of what the latest platform release is – jumping onto a new platform will allow you to gain followers at a much higher rate, which you can then send them to your other more prominent social sites.
Never buy followers, fans or any sort of social engagement. It needs to happen organically.
Keep your profile photos and cover images consistent throughout your social platforms – this important when you are branding your company or yourself
The same thing applies to your bios on social sites, make sure they all match, and if you are limited by characters, just edit it down to the parts people can still identify with on other social channels
Never make your social posts about selling. While that is your main objective, don't come across that way. Be real and personal. People love to see a real person behind the computer, not just empty posts to try and generate traction and sales
Social media is an ever-changing industry and it will only continue to get bigger. New platforms arise day in and day out, but these 5 are the ones you should really focus on if you want to not only build your business but create a solid reputation.
Because of the sheer size of Facebook, you have a massive opportunity to grow your business and downline beyond your expectations, but you really need to take the time to educate yourself on what works and what doesn't for your brand and industry.
These tips and techniques I shared should put you on the right path to success, just make sure you never stop learning and researching! There is always room for improvement and growth.