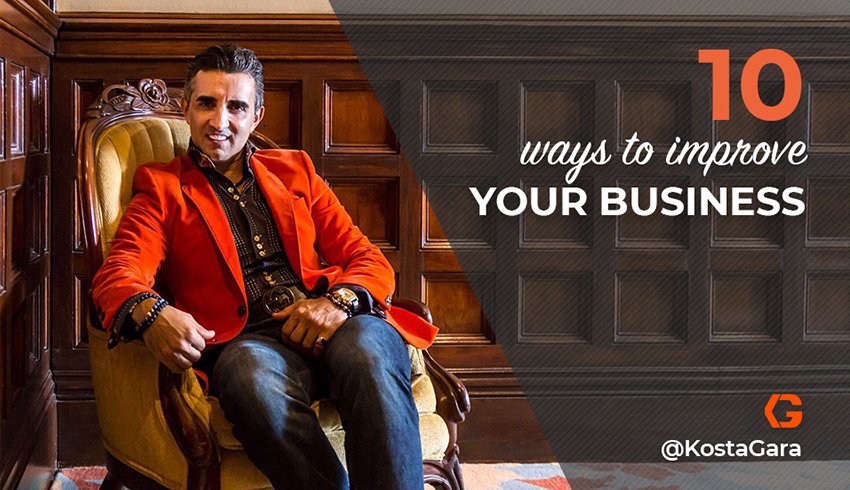 As entrepreneurs, we are always looking for ways to improve our business. And while every business is different, there are some common traits we can use to improve or enliven our business systems, revenues and marketing methods.
As the founder of various businesses
I have tested many methods… Some have worked, while others have failed miserably.
Such is the life of an entrepreneur.
One thing I do know is: the wise entrepreneur learns from the successes and failures of other entrepreneurs. Why go through a process to see if a system will work if someone else has tried and is willing to share their results?
I also found that taking another entrepreneur's improvement ideas that failed and making slight changes to turn that failed idea into a successful improvement.
Whether you are a seasoned entrepreneur or just starting out on the business journey, I want to give you a helping hand… And no, there is no cost.
The only payment I ask is that you share this information with other like-minded entrepreneurs.
Just scroll down, read and take notes of these 10 ways to improve your business.
#1 Way To Improve Your Business: Help Even With No Revenues Attached
If you know of a way to help your customers or potential customers even if you will not receive any revenues or other benefits, do it!
People have a good memory who helps them and who doesn't. Good deeds do not go unnoticed.
As an example, let's say that you own an auto part's store. A customer enters the store claiming their battery is bad. Testing the battery, you see it isn't bad… You have a few choices now. You could:
Just sell he/she a new battery.
Tell them the battery tests good and leave it at that.
Or the best choice – carry that good battery and go out to their vehicle. Put it in and clean all the connections. Check the car with your tester and see if it may be another part. In many cases, the connections just may have been bad or dirty and all will work fine.
90% of the time, that person is going to remember your great service. You didn't make a dime that time, but they will return and probably refer you to their friends and family.
#2 Way To Improve Your Business: Set Goals
When I hear of an entrepreneur who doesn't have any goals set, I just shake my head in wonderment. After all, what exactly are they reaching for?
You should set goals that are high, but reachable. With those goals, you need to set objectives. Objectives are those things you must do to reach your goal.
When you reach your goal, raise it higher.
If you miss your goal, you could either slightly lower it or keep it the same.
I suggest setting daily, weekly, monthly and yearly goals. You may want to add in some longer term goals too.
#3 Way To Improve Your Business: Always Seek Referrals
If you are not seeking referral business, you are surely leaving a lot of money on the table.
There are many ways you can go about this… Offer a gift or discount to those who refer a new customer; hand several business cards to customers and ask them to give them to friends and family; you could even give customers an item that advertises your business that will draw others to ask them about it (t-shirts, hats, coffee mugs, etc…).
Most customers are willing to refer, but only if you ask.
#4 Way To Improve Your Business: Ask For Testimonials
It is utterly amazing what strong testimonials can do for your business.
Most consumers look for reviews before they will do business with a company. When they see or hear testimonials from people similar to them, they are more apt to trust you and buy from you.
These testimonials can go on your website, social media pages, and even in fliers, banners and other marketing items.
#5 Way To Improve Your Business: Be A Student Of Your Industry
You can never learn too much!
As a matter of fact, I once heard it said that if you do not learn something new each day, that was a wasted day.
Who said that, I do not know. If you do, please tell me so I can give them credit.
What I mean is, you should always be looking for ways to learn new things that you can give to your business. Maybe you could learn more about accounting, marketing, public speaking, etc…
#6 Way To Improve Your Business: Look For Tasks That Can Be Automated
There are certain tasks that are monotonous that can be automated in every business structure. Many of those tasks can be automated with help from software.
Do you send out regular reminders of upcoming sales? Let your computer do it! Invoicing? There is software to automate it. Posting to social sites? Yes, there are programs that will do that too.
Why have an employee or you spend time on tasks that can flow just fine with the help of software? The upfront costs may be somewhat high, but when you figure the long-term savings, you will be amazed.
#7 Way To Improve Your Business: Showcase Your Differences
Instead of focusing on cost, I have discovered that showing potential customers how you are different from the competition goes much further.
You see, most consumers are actually willing to pay more to get something that is different from the rest.
Why?
People do not want to have the same thing as their neighbor. They want to show off something different.
#8 Way To Improve Your Business: Outsource
In a way, this tip goes hand-in-hand with automation. But there are certain tasks that can't be automated. Let's say you need landing pages built… Outsource them. Facebook posts… Outsource them. Infographics… Yes, you can outsource them too!
While a freelance agent may charge more than you would have to pay an employee, add up the costs you save.
No vacation pay.
You don't have to pay unemployment insurance.
Office space… Their office is wherever they are.
Etc…
It just makes good business sense to use freelance agents for some of the tasks you have.
#9 Way To Improve Your Business: Always Keep A Positive Attitude
It can be easier said than done but I did it, so I know you can too.
For those of you who do not know my story, let me just tell you a bit… And much of it would take many people into a negative perspective they could never get out of. But I was taught differently.
I studied engineering but dropped out, positive I could become a millionaire without University studies.
I was positive I could sell vacuum cleaners door to door with success, but I failed. I still smiled and moved forward.
I was positive I could win at direct sales, but I failed the first time. But I didn't stop.
I started a company, positive I could succeed with hi-tech. It went bankrupt. But I didn't bankrupt my attitude.
And then…
I decided with a positive frame of mind to try direct sales again.
And all those positives added up to a positive outcome… I became a millionaire. And I owe it to having a positive attitude and I keep doing so. And it has led to an amazing journey… See my journey here.
#10 Way To Improve Your Business: Listen
Sometimes we can get so caught up in talking that we forget to listen. But it is by listening that we can discover our customer's needs, wants and problems. When we listen, the person will often tell us how to make them happy and in doing so, we can profit.
So use your ears and listen to the people. Answer their questions and you will become the go-to expert to solve their problems.
Conclusion
Are these the only ways you can improve your business?
No way!
But I did not want to give you information overload. Do keep abreast of my blog, as I will provide you with many more ideas to improve your business.
If you found value in this post, I know for sure you will find extreme value with my latest book: Organic Networker – The Millionaire's Blueprint. I share 12 Organic Principles For Limitless Wealth.
And guess what? I am giving you this book for free… It retails for $24.95, but free to you. You just pay $8.95 S&H in the United States and I will make sure it is in your mailbox soon. Click here to order yours.
I know these tips will help you and as I said, no cost except that you share it with your social media friends.
Thank you, until next time.